Great River Fishing Adventures has been in business since 1998. Chasing Sturgeon & fly fishing are our passions and we are proud to introduce thousands of guests to our area every year.
Our love of fishing is exemplified in our combined 100 years of dedicated fishing experience.
DEAN WERK
Owner and Professional Guide
Office: 604.792.3544
Mobile Direct: 604-991-3474
Email: info@greatriverfishing.com
Born and raised in Chilliwack, British Columbia, Dean has been fishing British Columbia's lakes and rivers for over 40 years. He became involved in the sport-fishing industry 23 years ago and has been dedicated to the preservation of the White Sturgeon ever since. Dean is heavily involved in the fishing community and sits on the Board of Directors for the Fraser Valley Salmon Society and the Technical and Community working groups for the Recovery of White Sturgeon. Dean actively shares his passion and works with children teaching them to fish and respect the importance of conservation.Dean is very connected to the river and all the people who share it. He has established solid relationships with many First Nations Bands, including the Yale First Nations who settle along the shores of our rivers. Dean's true passion is Sturgeon and he lives for the anticipation of not knowing how big the next fish could be or how many times it will jump. Dean also enjoys Spey casting double hand fly rods for Salmon, Steelhead and Trout. He likes finding a private piece of river and trying to cast near perfect loops and capturing everything in his surroundings.
Dean loves to share days on the rivers with new guests and friends sharing his knowledge about conservation and all our fish species. Ensuring that this resource is here for us to share with our children, grandchildren and great grandchildren for many generations is the key to feeling fulfilled.
"The Journey never ends when you share the passion"
– Dean Werk
Rick Stahl
VP of Operations
Mobile Direct: 604.997.3474
Email: rstahl@greatriverfishing.com
Rick Stahl came on board back in 2017 to help manage operations off the water and is here to ensure your adventure is everything you expected. Rick brings a literal lifetime of local fishing knowledge as well as administrative skills to our team. He has held a guiding license since 1992 and spent over 150 days in the field per year for over 25 seasons. Needless to say, he has a very intimate knowledge of the fisheries and quirks that go along with it. Along with that unbridled passion for fishing Rick has managed a plethora of fishing businesses and is very respected within the fishing community.
He is a spey and fly fishing nut having helped pioneer many of the methods we fish today. He sat at many round tables for G. Loomis and Scientific Anglers when spey fishing first became a hot topic in North America. His natural tendency to teach others lead to many spey and fly casting schools alongside guiding and simply making a living from he loved to do.
Rick held one of the first guiding licenses on the Upper Pitt River as well as being one of the original license holders for the Fraser and Harrison River. His knowledge of the areas fishery goes back decades and he is often found reaching back in memory to regale stories of past fishing adventures. There is not much he has not seen or can relate to when it comes to fishing in British Columbia.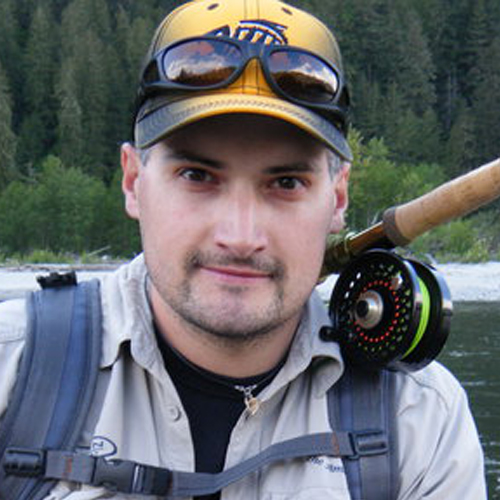 ISTVAN FILE
Professional Guide

The hungarian sensation!! Istvan came to Canada 11 years ago from Hungary where he was a champion fly fisher. His dream was to do what he loves for a living and his passion for sportfishing eventually landed him his dream job here at GRFA. He started guiding full time for GRFA about 4 years ago and has never looked back.
Like so many others he quickly fell in love with the almighty white sturgeon and spent countless hours, days, months… studying their behaviors and instincts. There are very few anglers, if any, that spend more time each year searching out these prehistoric fish than Istvan… and he catches allot of sturgeon.
As noted he was a competitive fly angler in europe and quickly adapted his skill and passion to BC waters. He now plies BC rivers and lakes with fur and feather and is a true expert in catching salmon and trout with both single and double handed rods. His skill and intimate knowledge of our local rivers makes him one of the best angler guides to have onboard for your ultimate fishing experience.
Istvan never rests while on the water. He is constantly looking for the next bite and will always do what it takes to put fish in your hands. His passion for the sport is quite tangible and exudes to his guests making him a client favorite and one of our most requested guides. He is a rare find and we are so very lucky to have him as an integral part of the GRFA team.
LANDON GILL
Professional Guide
Landon started fishing with Dean when he was only 6 years old and became totally addicted to learning every aspect and style of fishing. He became a professional guide at the young age of 19 years old and in a short 5 years he has reached the top and is the best of the best. In our view he is in the top 15% of the very best guides to ever fish the Fraser River and tributaries. He is an incredible single and double handed fly guide and can lay out loops with the best of the world.
He is also one of our specialist guides as he navigates the Upper Pitt river and Fraser Canyon with skill and care. He also operates all our rafting trips down the Vedder River for steelhead and is the go to guide for all of our walk and wade trips.
Landon will work hard to land you the fish of a life time each and every day he is on the water – His knowledge of our rivers and area is unmatched….Most impressive is his true passion and for anyone who has fished with him, it flows from him naturally. He is a true gem and we are so very lucky to have him as huge part of the GRFA team.
MICHAEL PILLON
Professional Guide
One of our long term guides, Michael is the definition of laid back with just enough OCD to make him a fish catching machine. His easy going demeanour and flair for story telling makes him very popular amongst the other guides.
One of our more requested sturgeon guides he also has a flair for salmon and is rarely known to be skunked on the water. Over the last 7 years working for GRFA he has spent countless hours, days, months sharpening his skills as an angler and now he fishes on instinct …his gut is not often wrong
Michael definitely fits the ol' salty dog character on the river, minus most of the salt. He loves to chat and is very personable as he stays active tending rods and working the fish. His personality is infectious and after a days fish out you'll feel like you've known him your whole life.
Known by many handles over the years… Cool Hand Luke… Magic Mike… Bubbles… His life has had many paths but they all lead back to fishing and over the last decade he has been blessed to make a living out his passion.
Michael was born and raised in Chilliwack and he was still quite young when he discovered the mighty steelhead of the Vedder River. His passion and love for these elusive fish stoked his fishing ambitions and he became well known as the guy that always got his fish. As time wore on he started to ply some the local lakes for big bull trout and Dolly Varden which he still enjoys today most often with grandkids in tow.
Still residing in Chilliwack along with his daughter, son and grandkids, Michael truly enjoys passing on his knowledge and his passion for the great outdoors.
STEFAN JEPPE
Professional Guide
GRFA Guide extraordinar. Every class needs a clown and we have our very own. Stefan loves to have a good time and is known on the river for his pranks and practical jokes. Don't get us wrong… he loves to fish but when the opportunity for laugh arises he rarely misses it.
Stefan moved to Chilliwack back in 1997 with his family from South Africa. Upon arriving it did not take him long to start plying the local waters rod and line… and then he caught his first sturgeon and lifelong passion with these beasts of the deep started.
Like so many others his dream was to make his passion his work and he started guiding in 2013 and now spends close to 200 days a year chasing finned critters. Known on the river to always having the best bait he is very much an out of the box thinker that is constantly trying different techniques and improving on old ones.
Over the last few years he has dug into salmon fishing as well and is quickly become a proficient andronmous catcher. Being laid back helps him transfer his knowledge and teach others the finer points of hooking chrome.
This father of 4 and husband to one resides here in Chilliwack and is one of the finest dinosaur catchers on the river. It truly is a rare day that his boat is not action packed and if you want know where the fish are, just look for his boat on the river.
Stefan is one our more requested guides and for good reason, he represents the full package; good times, great fish and loving what he does.
MITCH WERK
Professional Guide
You might recognize the last name of our newest addition to our team of guides… Yes, he is Dean's very own flesh and blood.
Growing up in a family literally inundated with fishing has given Mitch the edge needed to becoming a very progressive angler. He is turning that knowledge and passion into his career now.
Following in his father's footsteps, Mitch has a heart for sturgeon, especially BIG sturgeon and, like his father, spends most of his free time scouring the Fraser Canyon looking for these bruisers.
As a side gig he has his electrical journeyman ticket but really wants to make fishing his main income earner. He is very much a people person and with his laid back demeanor and simple approach to life he is quickly becoming a favorite amongst our long time guests.
STEVE SIMPSON
Professional Guide
Steves easy going personality often fools guests into thinking that he's ultra laid back. In reality he is a cold calculated fish catching machine and his wheels are always spinning as to how to put more fish to the boat. He is known to go above the call for guests on a regular basis whether that's burning the extra fuel in his massive, well organized Customweld Boat, spending the extra time required to land that fish of a lifetime or teaching the finer points of angling to new and seasoned anglers alike.
Known on the river as SteveO he has been angling our locals waters since his father started taking him along at the tender age of 2. He spent countless hours honing his skills in all the different aspects of west coast river fishing coming to be very proficient in the many different fisheries. From bait fishing to fly fishing; small streams to the giant flowing rivers; sturgeon, steelhead and all the salmons, he is very respected as a well rounded angler .
He spent so much time on the river that in 2013 he finally caved in and became a fulltime guide. Then in 2018 he took the step and came on with GRFA and we are lucky to have him. He now runs one of the largest boats in the fleet and is one our Fraser Canyon specialists. He is ultra organized and all of his gear is always at optimum working performance.
GLEN STONER
Professional Guide
At the tender age of 6 Glen caught a rainbow trout with his hands as it made a failed attempt to navigate a small stream and this instantly started a lifetime of passion for all things fishing. He was lucky enough to grow up in Yarrow, not far from Chilliwack, where he could walk the dykes and be fishing on the Vedder River in short order. Filling his days with salmon and trout would eventually lead to a love affair with the almighty sturgeon and now, a few decades later, a living at it.
His love of fishing easily translates to his guests and he truly enjoys the comradeship and building relationships on the river. His days are based on the memories created and he feels privileged to be a part of. He knows that for him the fish caught would be just another notch but for the guest this very well may be a fish of lifetime; or perhaps a start of something grander like a lifelong passion.
Glen loves taking kids fishing and is a perfect fit in a family fishing adventure. His patience and understanding is understated and he gets as much of a reward from helping others as they do in receiving.
He came to GRFA back in 2017 and runs one of our larger jet boats. He is a team player and will often lend a hand to fellow guides when the fishing is tough, going out of his way to ensure that everyone can experience success. His expertise lies in the Fraser River sturgeon fishery but is no slouch when it comes to salmon. He is a very hard worker and will do whatever it takes to get a hook in a fish. As he says: He'd rather watch the lines then the watch…
The scenery was magnificent, but the jet boat ride up the river is something to die for. It was the ride of a lifetime and we had a fishing bonanza never before experienced by me in my lifetime of fishing.
---
You are a very courteous, experienced and knowledgeable company who made my day an exceptional one and I will and have recommended you to others with great confidence. Thank you ever so much from a very happy client.
---
Magic trip.. thanks for making it so spectacular and such great fun. The guiding and company was really first class and I am looking forward to setting up camp on the Lillooet next year.
---